Get Ready for Fall Birding: Hoodies & Sweatshirts for Birders
Fall migration! What a great time to be out in the field. The weather's turning cooler, and birds are on the move. Local breeders are heading south, and birds that spend the summer further north are heading back down to their over-wintering spots. As the birds change, so might a birder's wardrobe. It's time to pull out layers and warmer gear like sweatshirts and hoodies. Get ready for fall birding with a fun new birdwatching-themed sweatshirt or hoodie. Here are some great examples.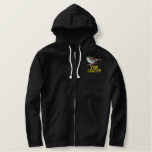 Keep warm while you're out birding with this comfortable black outer garment. The hoodie has an embroidered White-throated Sparrow at the chest "pocket" area. Embroidered text under the bird reads "TRIP LEADER", making this a perfect sweatshirt to wear when you're out leading a birding group. The text is fully customizable so you can change it to read your name, the name of your birding club, or anything else!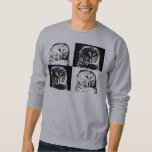 A single image of a Barred Owl face is featured in four black and white blocks. Half of the blocks use inverted tones to make this an artistic look at the iconic and charismatic forest owl. The monochrome photo manipulation art looks great on a grey sweatshirt as featured here. This one is great for birders who love owls (that's probably 99% of birders, I think).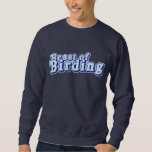 Maybe not all birders can pull this off, but any birder who really loves the hobby should have no qualms about wearing this Beast of Birding sweatshirt. The phrase is a take on "Beast of Burden". Bold text in shades of blue makes the design look like a logo. Get ready for cooler weather birding and pick up this fun and funny birder sweatshirt.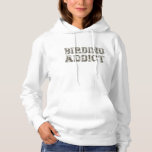 Distressed text in a collegiate style reads simply BIRDING ADDICT. Let other on your field trip know you're the real deal. This bold text design looks great on a white hoodie as shown here. Stay warm and cozy as you fulfill your own personal fanaticism: birding addict!
More Cozy Warm Birding Hoodies & Sweatshirts for Fall Birding
Lucky Birding Shirt
– This cute text design reads "Lucky Birding Shirt" and incorporates bird silhouettes within the letters. You can totally customize this gift! Add text, change the color,...
View on Zazzle
Life Is Short Bird Hard Sweatshirt
– This design reads "Life is short Bird Hard." Take advantage of the time you have and spend it doing what you love - birding! A perfect...
View on Zazzle
Drink Your Tea! Sweatshirt
– Sometimes birders use mnemonic devices to remember bird songs. A common song of the Eastern Towhee sounds a lot like he's singing "drink your tea." This...
View on Zazzle