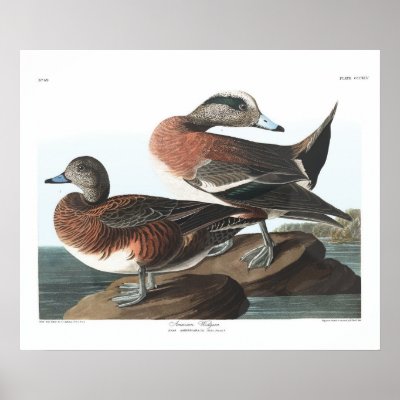 For a lot of birders in the United States, winter is a great time to go looking for ducks. It's Weird Duck Time! Several duck species that breed in far northern parts of the continent head south for the winter, and can only be found when the temperature plunges.

American Wigeons spend the winter along much of the eastern seaboard, through a large area in the middle of the states, and all up and down the Pacific coast. Their winter range extends down through Central America into northern South America.

John James Audubon's painting of a pair of American Widgeons (using the traditional older spelling) was included in his original Birds of America series. Duck seekers will enjoy this poster-sized replica of the iconic painting by America's most famous ornithologist.
The print is presented here in 24" by 20" size. Other standard poster size are available, or you can choose your own custom size, up to 40" wide!
This design is currently "retired" in our shop, so it's only available on this poster product. However, it's easy to transfer this design to any other product in Zazzle's vast offering. Here's an easy tutorial to follow:
Using Zazzle's Tools to Put Birder Gifts Designs on Any Product