Funny Song Bird Mnemonics T-Shirts for Birders
Mnemonics are memory aids. To help remember bird songs and calls, sometimes birdwatchers use mnemoics, or phrases that sound like the bird sounds. Often these phrases are funny made up sayings that help jog the memory while also tickling the funny bone. Here are some funny t-shirts for birders featuring memorable bird song mnemonics.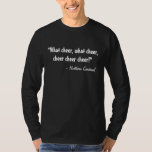 The Northern Cardinal has a cheerful-sounding song, so it makes sense that the common mnemonic exudes cheer. Do you hear them singning, "What cheer, what cheer, cheer cheer cheer?!" If you hear such cheer, this funny bird-lover quote t-shirt was made for you.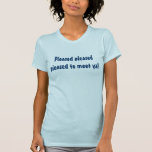 Ah, warbler song! Those beautiful notes we need to recall each spring as the migrants make their way through our territory once more. Remember the song of the Chestnut-sided Warbler with this fun bird song quote t-shirt that uses the CSWA mnemonic: "Pleased pleased pleased to meet ya!"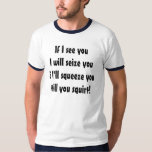 The quote on this shirt is big and bold. The mnemonic for the Warbling Vireo's complicated song is long and funny. Only fellow birders will understand the saying on this shirt: "If I see you I will seize you and I'll squeeze you till you squirt!"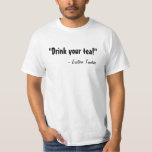 The elegant Eastern Towhee has an elegant mnemonic for its elegant song: "Drink your tea!" Birders will recognize this text t-shirt design as being bird-themed. Others might think you have a thing for Earl Gray.