T-Shirt Tuesday: American Dippers Like It What?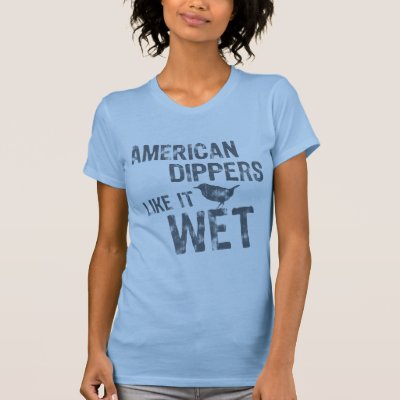 This is a funny, cheeky t-shirt design for birders. The text may be a bit risque, but birders know the words speak only the truth: American Dippers really do like it wet.
Another name for the little songbird known as the American Dipper is Water Ouzel. It is an aquatic songbird, catching prey items under rushing water and walking along stream bottoms with ease. They also nest near water. The wetter the better for these little dark grey birds.

The text of this design -- American Dippers Like It Wet -- is accompanied by a silhouette of a dipper. The design is done in solid muted dark grey and has been distressed for a vintage look. This vintage-style design looks great on a light-colored shirt, like the baby blue women's tee shown here.
More American Dippers Like It Wet Gifts for Birders