Bird Art Lined Notebook Journals for Back to School
Themed journals like these bird art notebooks are a great way to bring along your passion (birds or birdwatching) as you take class notes or do homework. These notebooks all feature notable fine art of birds by famous artists.
Keep your field notes in a bird-themed journal, or take class notes during ornithology, biology, or ecology using one of these bird notebooks.
Zazzle's great customization tools mean that in addition to these fine bird art prints on journals, you can pick out your favorite species from our range of Historic Bird Illustrations to place on a lined journal. Below are just a sample of the bird art journals available for purchase from our shop.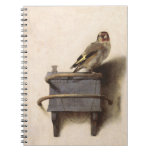 A European Goldfinch sits chained to a perch in this famous painting by Dutch artist Carel Fabritius. The work was featured prominently in the fiction novel The Goldfinch by Donna Tart that came out in 2013. The book was later adapted into a movie. The familiar painting looks great on this small 6.5" by 8.75" lined notebook.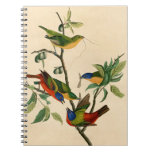 Painted Buntings are the jewels of the southeast in the United States. Appropriately named, males in particular have a stunning plumage in reds, blues, and greens. Females are beautiful too, sporting a lovely green and yellow palette. This notebook features art by famed bird painter John James Audubon.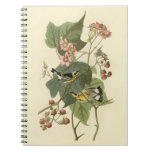 When John James Audubon painted these birds in the early 1800s, he called them Black & Yellow Warblers. Today we call these lovely little birds Magnolia Warblers. Audubon's famous lifelike style looks great on this lined notebook. This blank book would be great for taking notes in ornithology class or other biology classes.